About Our Flags Quality & Design
Flag Construction
– Cotton flags and tea staining
Before modern textiles such as nylon, flags were made from natural materials (such a cotton) that would develop a set of age stains over time. These are called "tea staining" or foxing and are the distinctive discolorations that give an old flag its battle worn and aged appearance. There are many artificial techniques for tea staining flags, but only one natural way to obtain n authentic aged look. Time.
To encourage this process, we do not treat our cotton flag to prevent tea staining.
When t arrives, your flag may already have some of its first few tea stains (seen as small discolored spots, especially on light colored areas). If you wish your flag to age naturally DO NOT CLEAN THESE OR APPLY CHEMICALS to the material as it it will disrupt the underlying color and interrupt the aging process.
If your flag is lucky enough to survive to be an antique (in 50 to 150 years) it will have the beautiful and natural aged look that only time can bring.
– Where are your flags made?
We are an American owned and operated company. When possible we seek to supply high quality American-made items.
Many of our flags are made in the USA. They are clearly marked with the words "USA MADE" in their title. They tend to cost a little more. For customers who can afford the quality, these are great choices.
For our customers where price is a larger concern, we have made imported flag items available as lower cost alternatives.
In fact, we would not be able to provide a number of the designs customers love if we did not get them (or some of their parts) from other places.
With the flag items we import, we create jobs for Americans and bring money and success into this country.
So while some of our other flag items are not made in the USA,  we urge you not to dismiss them completely.  To get them made took American ingenuity, business savvy and work ethic. Behind each one is an American who had an idea, made a plan,  took a risk, got it made and available for you now.
SOME flags are made in the USA, we display that on the title of the product. ALSO we have a whole section that has USA made right here View
https://www.ultimateflgs.com/collections/made-in-the-usa
Anything not marked as made in the USA is, sadly, most likely made in China. You do have a choice in buying.
Get the USA made flags for 5 bucks off with the code BIG5, unless you buy three then one of them is free.
– How do I attach the flag to my flag pole?
Flags intended for outdoor and decorative use have what are called "grommets" – little rings at the far top and bottom corners on the left of a flag. Typically a flag will clip onto the pole via these rings.
Unless otherwise stated, all our flags have metal grommets for log lasting wear.
Flags that are  intended for ceremonial purposes will have a pole hem. This is an extra vertical sleeve at the left side where a pole slides in and supports the flag. They do not also have grommets.
– Are Your Flags Double-Sided? Do they read right on both sides?
This is a common flag question.
All our flags are made and display correctly.  By "correctly" we mean they are backwards on the back of the flag.
All flags naturally have a front and back sides. For example, words that appear on the front of a flag almost always appear in reverse on the back of the flag.
It is unusual to have a truly double-sided flag that "reads" correct on the back. To accomplish this you would have to sew two flags unnaturally back-to-back.
BUT, DON'T TAKE OUR WORD FOR IT.
In the image below you can clearly see the Marine Corps flag has reversed letters on the back (look at the bottom of the image and the word "Marine" is reversed. The word above it, "United", curls around and is correct (so you know we did not doctor the image).
We'd not suggest to these gentlemen that their flag is anything short of correct.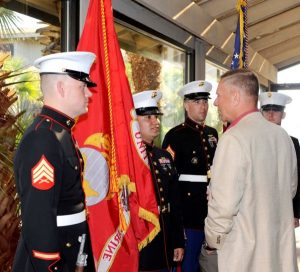 Customers Support
About Your Order
– How long will it take for me to get my order?
Assuming the items are in stock at our warehouse most orders ship within one business day. There are occasional peek times when this will not be the case.
Average delivery time from our warehouse in Atlanta is 2-3 business days for the Eastern USA, 3-5 business days for Western USA addresses.
Canada is typically 10 days to 2 weeks.
Countries outside the US and Canada vary between 2-4 weeks.
–Do you offer overnight or express shipping?
Sorry, not at this time.
We ship all orders via the U.S. Postal Service first Class or Priority mail depending on weight.
Typical delivery times are 2-3 business days for Eastern US addresses and 3-5 business days for Western US addresses.
–Where can I get a tracking link or code for my order?
We ship all orders via USPS (the U.S. Postal Service) First Class or Priority mail.
The post office does not provide the ability to track these packages.
– I want to change my order…
Sure. Just create a support ticket at our help desk and one of our staff will help you.
https://ultimateflags.zendesk.com/hc/en-us/requests/new
Returns
–Basics of our 30 day return policy.
We accept returns of items within 30 days of shipment.
If you are not happy with an item you purchased from us, you may get a refund of the purchase price, or a replacement for a damaged or otherwise unacceptable item.
You will need to return the item to us prior to getting your refund or replacement.
Shipping costs are not refundable and we do not provide or reimburse return postage costs for returns.
To return an item to us, please request a RMA (Return Merchandise Authorization) by opening a help desk ticket.
–How a return's cash value is calculated in orders with "free" items.
In doing a refund for an item that was purchased as part of our buy 2 get a 3rd item free program, the return value must be adjusted to allow for the value of the "free" item(s) included in the order.
The refund value is based on the items percentage contribution to the over all order value.
We calculate the cash refund value on a single item in the following way:
Item Retail Value divided by Order Retail Value before discount = Item Value Percentage
Order cost times Item Value Percentage = Cash Value
For example:
A $100 flag and a $50 flag are purchased. One additional $25 flag is selected at the time of purchase as the "free" flag under our promotion.  Later the customer wishes to return the $100 flag for a refund.
The Retail Order value  = $175
The Returned Items % of the Retail order Value – 57%
The Orders Item Cost was $150.
57% of $150 = $85.50
The Cash Value of the Returned $100 item is adjusted to be $85.50 to account for the "free" item's value in the order.
Before Purchasing
–Use this Coupon code and get $5.00 off your order
Happy Birthday!  If you had a birthday this year, then your gift from us is this $5.00 coupon on any order over $24!
Coupon code is "5OFF"  (without the "quotes", of course.)
Any if you know anyone else who had a birthday this year, be sure to tell them about it too!
This coupon CAN be used along with our Buy 3 get the 3rd one free offer!
Coupons codes are entered in at the bottom of the first check out page and to be valid must be used in our shopping cart at the time of checking out.
Don't ask us after you order for the discount, that's not how this works.
–How Our "Buy 2 get 1 Free" Offer works
In our store most items are eligible for our buy any 2 get any 3rd item free offer.
Put simply, this special offer means that when you buy any two items, you may then select any 3rd item of equal or lesser value free.
This also scales up so that you get awarded a free item for each 2 your select.
So when you purchase 4 items you get 2 free, purchase 6 items get 3 free, etc.
How to get your free item(s):
Simply add any 3 items to your shopping cart and check out with them. Our cart will automatically make the eligible item free and will show you clearly which item(s) you are getting free.
Some restrictions and rules:
1. Not all items are eligible to be part of this offer. However, about 98% of our current store items are included.
2. Shipping charges apply to all items, including the "free" 3rd item(s).
3. You may combine this offer with any coupons or gift certificates you have been given.
4. You must select to your shopping cart and check out with the free item at the time of placing your initial order.
FAQs – Common Questions Answered
-Do you sell the Rebel flag (Confederate Battle flag)?
Absolutely.
We have stepped up the availability of all the "Southern Heritage" flags in response to recent demand.
We are shipping thee flags out daily to anywhere int he world. Supplies are limited and sometimes we run out for a little while. Rest assured we will fill all orders as quickly as possible.
-Do you sell wholesale?
Currently we are not accepting applications from any new wholesale buyers.
– Can I order via phone?
Yes, day or evening and on weekends. Call Tom at (770) 851-4970.  If he is on the phone, leave a message and he will call you back.
-Is the packaging discreet?
Yes, because flags are often emotional items, all our packaging is discreet in that there is no hit of which flag design is inside. However, the packages are posted from Ultimateflags.com.
Many flags are purchased as gifts as well and we're not going to be the ones to ruin the surprise.
If your order is a gift being shipped directly to the receiver then you may not want us to send an invoice, just make a note in the comment field.