Nazi Party Flag or Banner – Cotton Perfect for the Sound of Music or historical drama about Wold War II. Limited Supply.
Sale
Buy today while supplies last Available in 3×5, 2×3 foot with grommets and 12×18 inch on a stick The German Flag with Swastika was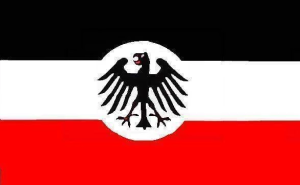 The Deutsch Reicht Flag is the color for the Deutsch Reicht empire. The black, red, and white come from the arms, a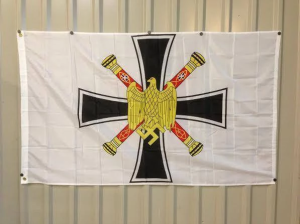 This is a replica flag of the German Grand Admiral of German Navy under Adolf Hitler, the Kriegsmarine. The rank is comparable
Kaiserliche Marine War Ensign of Germany (1903–1919) Mug
: In stock
War Ensign of Germany used (1903–1919)
Kaiserliche Marine War Ensign 1903–1919
The German war flag, which was slightly changed two times during the Wilhelmine Period (see gallery below), was in common use in World War I. It continued to have Prussia's national colours of black and white, the eagle of Prussia, the Nordic cross, with the German imperial black-white red tricolour in the upper canton with an Iron Cross. In 1919, the flags of Imperial Germany were scrapped and replaced by those of the Weimar Republic: a black-red-gold tricolour.
Whether you're drinking your morning coffee, evening tea, or something in between – this mug's for you! It's sturdy and glossy with a vivid print that'll withstand the microwave and dishwasher.
• Ceramic
• Dishwasher and microwave safe
• White and glossy